Recently, there have been many cases that caused great damage to the health, even the lives of the homeowners, in addition to the main reason is that the thief is increasingly reckless and cruel, the reason why we do not know how to equip ourselves with the right ways also contribute greatly to the unexpected
So when hacked, how to handle to avoid human damage and loss? If you are quick and alert, you can completely turn things around. However, when you are at a disadvantage, you and all members need to remember the following rules absolutely: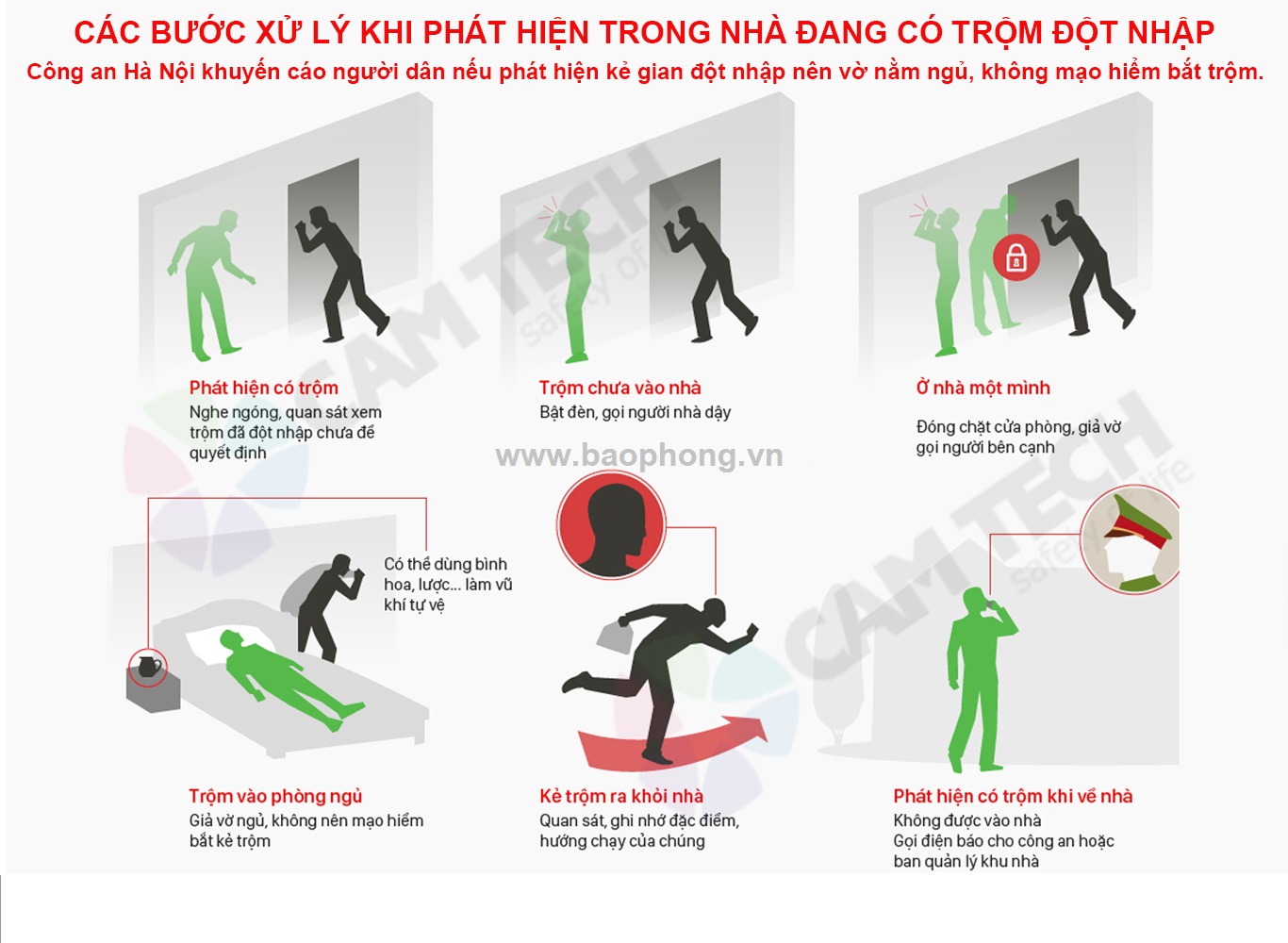 Detected home with theft
You absolutely must not panic, remember that you are not a thief who is familiar with the terrain. You need to listen closely, watch if the thief has broken in to make the right decision.
When the burglar has not entered the house
When you discover that the thief intends to break in, you need to warn everyone in the family about the current situation, carefully prepare defensive weapons, make phone calls to notify relatives, functional forces, ... then find a safe place to hide and wait for help.
When you are home alone
When you discover intruding thieves that you are alone at home, close the door and pretend to speak to the thief that there are many other people in the house. Then do the same as situation 2 above.
When stealing into the bedroom
In the situation the thief enters the bedroom at night and you are in it too, just calmly pretend to sleep, do not risk catching the thief because of the possibility of them carrying weapons, always remember, the purpose of their intrusion is stealing money and wealth.
When stealing out of the house
When stealing out of the house, do not risk chasing them, carefully observe their direction and identity.
Detected stolen when you come home
In case of detecting intruders in your house when you coming home, absolutely do not enter the house because most likely thieves are inside. Call the authorities and wait for them to check on the house to help you.
The way to handle the above is a reluctant situation and not a real situation where you can do so, the thief is becoming more sophisticated and has a cruel trick. In order to protect your relatives, you should be prevented from stealing by installing CCTV and burglar alarms around your house.
---------------
THANG LOI DA NANG SECURITY SERVICE JSC
Add: 50A Yen Bai St., Hai Chau Dist., Da Nang
Mobile phone: 0914.196.614
Fanpage: https://www.facebook.com/baovethangloigallagher/
Email: info@thangloidanang.com.vn